Between panicked overreactions and sleep-deprived nights, Henry and Albie managed to surprise me by being downright cute at times. Those cute streaks generally led to me taking pictures of the boys and convincing myself that the pictures were specifically for sending to my sister (who would undoubtedly appreciate some photos of the furballs). If I'm being completely honest, though, I enjoyed looking through those pictures and those moments when life with cats wasn't too terrible.
Take the evenings when they wanted to snag a bit of my dinner: the cats became pretty great at trying to activate their sweetness and trick me into sharing my food. Their go-to scheme consisted of the boys sitting directly next to my plate, realizing that I was going to push them away if they tried to eat anything from it, and proceeding to stare at my food with what I can only describe as puppy-dog eyes (since cats aren't nice enough to have a guilt-inducing expression named after them). I actually rewarded Henry with a treat after he once stared down a dish of macaroni and cheese for the better part of 30 minutes. Watching the boys' attempts to shove their way through my bathroom door also brought me joy. Sure, the cats sometimes busted their way in to join me, but whenever they couldn't get through the door that I had painstakingly jammed shut, I saw a sad little paw like this one: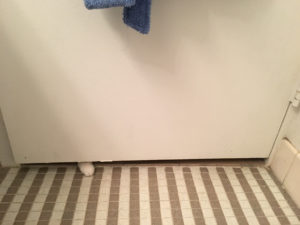 They were cute when acting mildly mischievous, but Henry and Albie were even more precious when they were asleep—and not just because a sleeping cat is a non-trouble-causing cat. The ways in which they curled up to take naps were both confusing and impressive: one day, for example, I noticed that Henry had basically folded himself in half (front paws touching back paws), rolled onto his side, and fallen asleep like that on my windowsill. Well done, sir. Even with this ability to zonk out anywhere, the couch seemed to be their most desired nap spot and the site of multiple too-cute-to-pass-up photos: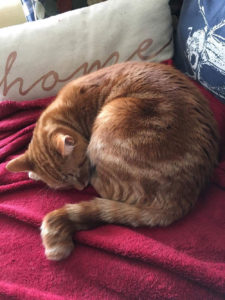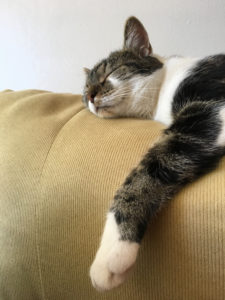 However, nothing could beat the moments when the boys acted like they were friends. They generally played/fought with each other on a daily basis, which I enjoyed; when they were wrestling, I knew they wouldn't also be interrupting my dinner or trying to climb on my face. In terms of adorable moments, though, that wrestling didn't hold a candle to the times that Henry and Albie were being mellow together. One day, for instance, I spotted them sitting in a chair near my window, coordinating their menacing glances at the birds outside. Another time, Albie actually fell asleep with his paw draped over an already-napping Henry. I will openly admit that for just a minute, I turned into the ultimate cat aunt and started snapping an entire collection of pictures because how can you not gush over this display of animal friendship?!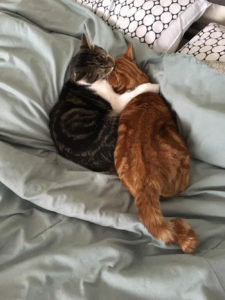 Seriously: ARE YOU KITTEN ME WITH THAT SWEETNESS??